I was 3 1/2 & my sister was 9mths old.
One day while feeding the ducks (on the side of the road by a creek) a photographer for the local paper pulled over and asked to take our photo for the paper. I love my expression.
Take Me Back Tuesday posts at
A Day With Two
.
Way Back When-esday posts at
Twinfatuation
.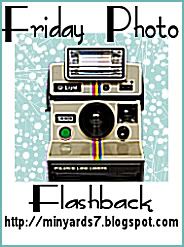 Friday Photo Flashback posts at
More Than Words
.
Flashback Friday posts at
Christopher And Tia's blog
.