This photo was in with the ones my husband's grandmother had given me. I stumbled upon that envelope of photos last week. This photo was taken at his grandparent's home. From the bag and the Planters Cheese Balls (miss those, wish they never discontinued them) container in it, I would say this was Christmas of 1995. Jeff & I started dating in October of that year. We look so young. Actually we were. I was just 22 (my b-day is in Nov) and Jeff was not quite 22 (his is in March). My hair was so long and curly...that is my natural curl. I am wearing a sweater that used to be my sister's and she had given it me. Jeff needed a haircut. Funny story...I loved Friend's and wanted to see if I could make Jeff's hair flatten and go forward like Ross' hair. I put
GOBS
of gel in his hair and it did not work. Man, Jeff was a good sport...his hair was sticky and yucky...what boys do for girls they love. We laugh about how ridiculous I was for trying that now. Ahhhh...to be young and silly.
Don't forget to enter my Giveaway for Tuesday,
here
and that for every
children's bracelet
I sell in
my shop
this week 100% of the sale will be donated to the Tuesday Whitt Foundation.
Take Me Back Tuesday posts at
A Day With Two
.
Way Back When-esday posts at
Twinfatuation
.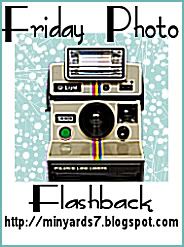 Friday Photo Flashback posts at
More Than Words
.
Flashback Friday posts at
Christopher And Tia's blog
.