Before I start I have to laugh...my husband asked me where my Dear So & So post was for last week. SHOCK! He typically only opens my blog to show ppl at work photos of the kids. About a month ago he read my Dear So & So one day and came home and asked me what was up with that. LMBO! So honey, here is my dear so and so for this week. =D
Dear AC,
How I LOVE thee. I hate humid & sticky. I have been working on a large order and humid and sticky makes my clay too squishy. I am glad that this year I have not had to call the people who put your unit in. I have had to call them every year for the last 3yrs starting the year they installed it. If I had to, you would have seen steam coming out my ears.
Wishing I needed you this weekend, melanie
Dear
Kathy Van Zeeland
,
I am ridiculously happy about my new purse!! I typically do not buy myself new purses very often. I am very glad I bought
this one
in pink. It is so pretty!!
Very happy customer, Melanie
Dear Heidi,
Thank you for introducing me to your Kathy Van Zeeland bag!! You ROCK.
Your most favorite sister, melanie
Dear Jeff,
Please get your own facebook account. While I don't have a problem with you looking through mine...wouldn't it just be easier to have your own?
Your loving wife, mel
Dear neighbors,
If you put grass seed down, you may want to dig up the spot you are putting it on and water the seed once you put it down. Just sayin. Unless you intended on feeding the birds. Also, your kid is driving me INSANE. I am over his screaming and his weirdness.
Wishing you would clean up your weeds, your neighbor
Dear Ian,
GO BACK TO BED! You DO NOT need to be up around 6am. It is just ridiculous. You are not missing anything. You are NOT going to miss the bus. You end up waking up the rest of the house and that just makes everyone cranky.
Very cranky, mommy
Dear Lily,
You need a nap! The temper tantrums over the past 2 days are CRAZY! You are definitely not getting enough sleep. Go back to bed.
Very cranky, mommy
Dear self,
Go back to bed. You are too cranky.
ZZZZZzzzzzz.....
Dear mom,
Hope you have a wonderful Mother's Day! Wish I could be there. I am glad you liked your gifts.
Love you lots, Melanie
Here is what I made for my mom...
(she collects Toy Story figures and I have been wanting to make the little green alien)
It says Love You, Nana on it.
Don't forget to enter my Giveaway for Tuesday,
here
and that for every
children's bracelet
I sell in
my shop
this week 100% of the sale will be donated to the Tuesday Whitt Foundation.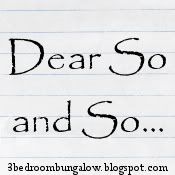 If you would like to see more Dear So & So's and/or participate check out
3 Bedroom Bungalow
.