So I have been a blog slacker this week. We got home from my parents house on Saturday evening. I brought back with me ALL of my parent's photos. My sister had scanned in a TON a few months ago and created a book with her childhood in it. I have decided I want to do the same thing. Actually I am pretty much scanning most of the photos. So on Sunday I decided to bring up my scanner/printer from the basement (or what I like to refer to as the cave). After spending hours trying to get my scanner/printer to work with my laptop (I was getting pretty frustrated and I am wishing for that part of my life back) my husband figured it out. I have been scanning photos ever since. I have done 1.5 books (pretty much 1.5 yrs of photos) and have 5.5 more books & 3 boxes to go. I have to say, majority of the photos are organized & dated (thank you mom) so it makes it easier. I am not looking forward to doing the 3 boxes...because they are not dated, but each roll is in the envelope they came in.
Now onto this weeks flashback...
This one is for my mom.
On
August 5th, 1984
my parents went and saw Rod Stewart in concert in Rochester, NY. Can you believe floor tickets were only $15.00!!
My mom was a HUGE fan. (Here is a photo of her after the concert)
Take Me Back Tuesday posts at
A Day With Two
.
Way Back When-esday posts at
Twinfatuation
.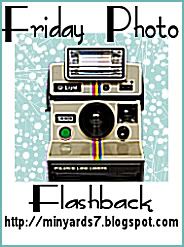 Friday Photo Flashback posts at
More Than Words
.
Flashback Friday posts at
Christopher And Tia's blog
.