Dear Dad,
Happy Birthday!! Hope you have a wonderful day!
Love, Melanie
(photo of my dad in 1971 when he was 19 yrs old)
Dear Lily,
Please, please stop throwing a fit it's time to brush your teeth. Daddy even brought you a new special toothbrush.
begging, mommy
Dear Ian,
What possessed you to tell your sister that her new spin brush would zap her? Seriously?!?!
Hoping you enjoy being grounded for the rest of the day.
Annoyed, mommy
Dear Jeff,
Loosing .5 lbs is still loosing weight. Please stop bumming me out. Your weight will not melt off overnight. It takes time.
Your shrinking wife
Dear readers,
My husband & I started Weight Watchers 2 weeks ago and I have lost 5.5lbs so far and my husband has lost 6.5lbs. We are using the program, but not going to meetings...I have all of the books from when I became a lifetime member years ago.
The shrinking Melanie
Dear Amy,
Thank you so much for planning an amazing Wine Trip. I had a fantastic time and can not wait until the next one. (btw...I want to take a group photo next time of everyone)
Hugs, melanie
Dear new neighbors,
Welcome to the neighborhood. It was great meeting you.
Melanie
Dear United States Post Office,
When I mark a package FRAGILE, I expect the package not to arrive to someones house looking like it has been stepped on. WTH?
Very Pissed Customer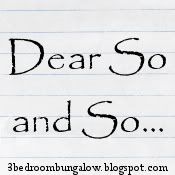 If you would like to see more Dear So & So's and/or participate check out
3 Bedroom Bungalow
.