Dear Friday,
I am so glad you are here. I have been waiting for you to come all week.
Mmwah, melanie
Dear Lily,
Please leave the kitties ALONE! They do not want you to show them your toys. Nor do they want you to chase them around the house, pull their tails, wake them up or smush them.
Please be more gentile.
Love, mommy
Dear kitties,
Thank you for being so patient with Lily. But, maybe just maybe you should take a swipe at her and maybe she would learn her lesson and leave you alone? Or maybe you could just leave the room?
Love, your human mommy
Dear self,
I am very proud that you FINALLY went through all of the clothes that your friend gave you for Lily. It's not like you have had them for 3 years. It looked like a clothing store threw up in your living room for a couple days, but at least your attic has is a bit cleaner. Now it is time to go through the rest of the bins up there.
Love, melanie
Dear Jeff,
While I am at "work" do you think you could clean up the dishes? You continue to tell me that if I get a job outside of the house you will do more housework...somehow I am not feeling it. It's probably because the dishes are still not done from dinner last night. I may be sitting at the dining room table working instead of leaving the house, but I am still working.
Big Kiss, your loving wife
Dear Ian,
Please stop giving us a hard time about studying your spelling words. You get so excited when you get 100's on your test, and you noticed how your grade improved tremendously from studying. I am not digging the fits...totally not worth the hassle if you are going to act that way.
Love you, mommy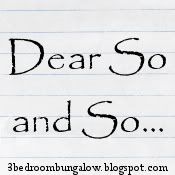 If you would like to see more Dear So & So's and/or participate check out
3 Bedroom Bungalow
.