Welcome to this weeks installment of Dear So & So...
Dear Nasty Bartender at dinner last Saturday,
Is there a reason you acted as if the liquor bill came out of your paycheck? This is the 4th time we have been to your hotel/resort. Open bar is exactly that, open bar. Make the drinks, smile and you will get tips. If you make drinks, grumble, bitch, hide the liquor in a box and ignore the women at the bar, you will not get anything except for a bunch of people who are going to complain to the manager about you and NO tips. Not like the ski slopes were hopping and you had a line of other customers waiting.
Still peeved at your attitude, a disgusted customer.
Dear Bartender in the hotel,
Thank you for being so accommodating. You were wonderful to my friends and gave great directions.
Thank you! Melanie
Dear man behind me at the grocery store,
Yes, I can read. This is not my first time at the rodeo. I already knew the sign said 7 and under. Thank you for pointing it out to me. I had only 4 things on the conveyor belt. I was not repurchasing the $80 worth of groceries that were already
bagged
in my huge cart. Nor was I purchasing the 2 kids I had with me...even though the 2 kids would still make me under the 7 items...see I can add. I am glad you felt embarrassed and told the older lady behind you to go before you.
Still shaking my head, frazzled mommy of 2 kids
Dear sunshine,
You make me happy!
Thank you!! Melanie
Dear Kathy,
Thank you for an amazing weekend!! I had a fantastic time. I hope your ankle feels better. Sorry you fell and it swelled up.
Looking forward to next year, melanie
Dear Jeff,
Please wash the curtain you managed to get food on after I washed it yesterday. WTH? You are worse than the kids sometimes.
Not finding it as funny as you did, your wife.
Dear Ian & Lily,
No you can not have jelly beans at 9:30am. **please note, this rule goes out the window on Easter Sunday**
Love, mommy
Dear Mia & Kara,
Can't wait to see you next week!
Love, aunt melanie & the gang
Dear blog
readers
friends,
Have a wonderful holiday weekend!
Love, melanie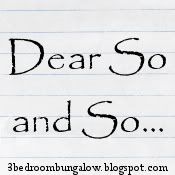 If you would like to see more Dear So & So's and/or participate check out
3 Bedroom Bungalow
.
Don't forget to enter this weeks giveaway from
Kristybee Photography
.