Dear Verizon,
I am disappointed that my internet is running really S...L...O...W. I am paying for high speed....so pick it up. I also wish your technical support was located in the US. I would really like to speak to a person I can understand.
Annoyed, melanie
Dear Ian,
I am really proud that you made Honor Roll this marking period! All of your hard work has paid off. I am also proud that you told someone in charge at school about the knife someone showed you on the bus. You did the right thing, that is definitely something that should be brought to school.
Love, mommy
Dear school,
I think suspending the kid (4th grader) who brought the pocket knife to school for 3 days was a bit over reacting. He never threatened anyone with it. He was remorseful and his parents had an appropriate attitude about the situation. Taking a photo of the "weapon" and a 3 day suspension was over the top in my opinion.
Ian's mommy
Dear Lily,
You crack me up every day. Those "ballet moves" of yours are priceless.
Love, mommy
Dear Fisher Price,
Polly Pockets little shoes SUCK! I think the people who developed them should be made to sit all day with 3yr olds & their Polly Pockets.
Lily's Mommy
Dear Jeff,
Looking forward to date night on Saturday.
Your loving wife. ;)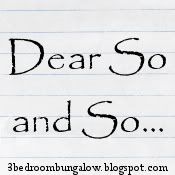 If you would like to see more Dear So & So's and/or participate check out
3 Bedroom Bungalow
.