Dear Jeff,
Please stop being so grouchy when I ask for help with anything. I am fully aware you have worked all day, but so have I. Someone has to call Direct TV...maybe it's your turn.
Mwah, mel
Dear Moviegoers,
Loved Alice in Wonderland! I was afraid it was going to be disappointing, but it wasn't. I could have used a bit more plot though...it left me wanting something. We took Ian to see
Percy Jackson and the Olympians: The Lightning Thief
a couple weeks ago. All 3 of us LOVED it!! I really hope they make the rest of the books into movies. They did a fantastic job.
=) melanie
Dear self,
I am REALLY looking forward to going to scrap & spa in 2 weeks. I am looking forward to 2 days of relaxation, being able to eat my food warm and pee in peace.
Not patiently waiting, Me
Dear Ian,
I am very proud that you are on your way to the Honor Roll. Now you know hard work does pay off. So please stop giving me a hard time every Thursday when we do our practice spelling tests.
Proud to be your mommy, mom
Dear Lily,
I love your eyelashes...
I could get lost in them...
Love, mommy
Dear photoshop,
You SUCK! I spent HOURS trying to figure out how to use actions. I am washing my hands of you. (at least for now)
I Suck at Photoshop, melanie
And while searching for video tutorials on photoshop I stumbled upon this one.
Please note, I probably would not watch this with your kids around.
It is HILARIOUS though.
Don't forget to enter to win a $40GC to Soms Studio
here
. (ends 3/13)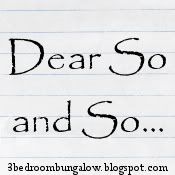 If you would like to see more Dear So & So's and/or participate check out
3 Bedroom Bungalow
.