I had so much fun doing this last week! So here goes this week.
Dear Nishant (commenter on my blog),
While I love bloggy comments, I do NOT like spam linking to "Work from home India". Please feel free to leave comments without that link.
Deleting your comments, Melanie
Dear Ian's School,
I am tired of fundraisers! Enough already. (go
here
if you want to read more about my issues with my son's school) Also, please stop trying to sell my kid on the fundraiser....I feel like I have to deprogram him.
Annoyed, Ian's Mom
Dear Ian,
Please stop trying to sell me coupons to BonTon. I will purchase my 1 book (make my $5.00 donation), but I do not have any use for 6 - 20% coupons that have to all be used on the same day. (Anyone want a 20% coupon that has to be used Feb 27th?)
Love, mommy
Dear Lily,
I had a fabulous time at the mall with you this week. Thank you for putting make-up on me with your Build A Bear beauty kit.
Looking fabulous, mommy
Dear Jeff,
Please stop putting your "stuff" on top of our entertainment center. Receipts, change & ties are not decorations.
Thank you, your wife "the decorator"
Dear Self,
When coming downstairs in the morning, do so with a smile and not a sharp tongue. Take a deep breath and go with the flow.
Tired of being crabby, me.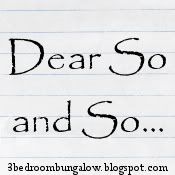 If you would like to see more Dear So & So's and/or participate check out
3 Bedroom Bungalow
.
_____________________________________________________________________
Click
here
to enter to win your choice of charm bracelet from Kim Smith. (ends 2/11)
Click
here
to enter to win one of my Daisy Pendants. (ends 2/15)
This is part of the OWOH blog carnival event.